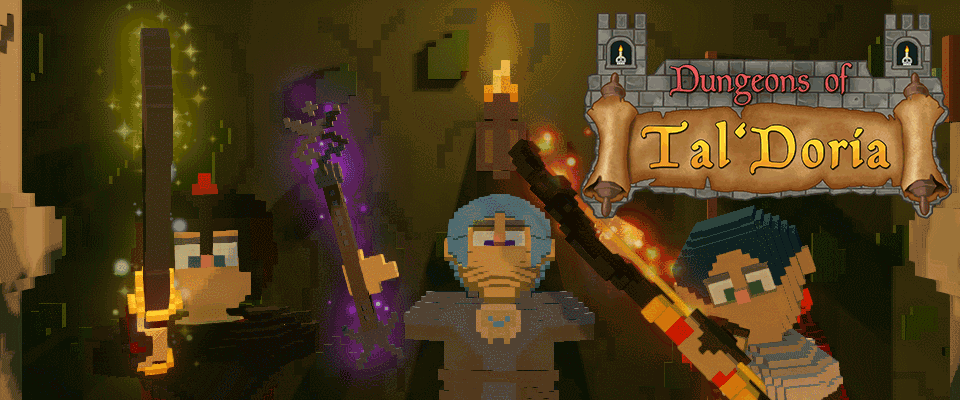 Dungeons of Tal'Doria
Skills, Next Update, Streamer Preview (DDD #24)
---
Hey Tal'Dorians!
Seeing as we recently released, we will want to make sure that we are keeping everyone informed about what we have been working on so here is a quick update and what you can expect to be soon and what is coming down the pipe.
Content
Skills
Next Update
Streamers
The players and streamers seem to be in one accord when it comes to what they want next for tal'doria, and that is without a doubt having the characters with skills! We have been working hard and are almost finished with two skills for each class and will be showing them off later today in a live stream (more info on that below). For the meanwhile here is an example of a couple of the skills:
You can expect these skills to be in later next week but can catch streamers and the team on twitch throughout the week showing them off!
The original plan was to release major updates every four to six weeks, but we were listening to feedback, and everyone would rather have skills in smaller bits than having to wait the extended time for them to come out fully. For our first part, we will be releasing two skills for each class, this doesn't include any skill progression but will allow the players a lot more to fighting then just the primary attack.
Now that we are on steam it is much easier to give streamers access to our builds as well as providing them a means of featuring new content before it comes out. We intend that updates to the game are going to be for the most part polished for the players and that streamers that want to take part will handle previews outside of the team; this provides content for their viewers and allows you a sneak-peak at what is to come like how our skills are going to be handled.
Speaking of which we have our first streamer build up and will be showcasing the skills that will be in the next updating coming very soon, our first streamer is Phowecy who has been following Dungeons of Tal'Doria very early on, they are a variety streamer with interest in games that have deep progression and able to be customized. If you want to catch the preview of the skills, you can see them on https://www.twitch.tv/phowecy at 7 pm EST on the 20th.
---
Discord: https://discord.gg/93RQdvz
Twitter: https://twitter.com/SuneXGames
Facebook: https://facebook.com/SuneXGames
Website: http://sunex-games.de/
Get Dungeons of Tal'Doria