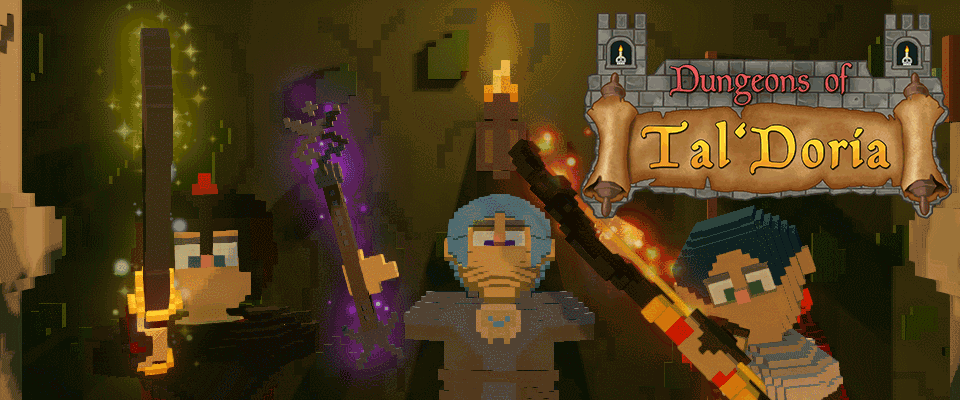 Dungeons of Tal'Doria
More Skills, Crafting Soon (DDD #26)
---
Hey Tal'Dorians!
We hope you have really been enjoying the first two skills for each class and we have good news that our next update is just around the corner, we are aiming for the end of the month. As always we want to be completely transparent with you, if we come across any delays, please check the discord (https://discord.gg/93RQdvz) as we will keep everyone updated there should any issues happen.
In today's preview, we will be showing off the next set of skills that will be going into the upcoming update, so without further ado!
To round out our skills we have two new skills for each class bringing their total skill count to 4 each. While the 1st and 2nd skill was made to show you what some special attacks would look like the 3rd and 4th skill focus on buffs to give you an idea as to what is possible in Dungeons of Tal'doria.
Below is a preview of the new skills, the 3rd skill for each of the classes is a self-buff, while the 4th skill buffs the party as a whole.

Outburst: You gain adrenaline (adrenaline is what the knight uses for his special attacks)

Endure Pain: Increased your own block chance and make yourself and your friends receive less damage

Force Of Nature: You have an increased critical hit chance and attack faster

Speed Of Wolf: You and your friends are run faster

Electrified: You have an increased mana regeneration and deal more damage

Healing Geyser: Field on the ground that heals players standing inside
We are always looking for suggestions and skills are no exception, with the four skills in play we hope it will give you some inspiration to offer feedback as to types of skills you want to see come into the game and for which classes.

Buff Bar when activating 'Electrified'
We are happy to see our buff bar get some use with the new skills! You will be able to see how to see how long the ability is still active, hover over it to see what each buff is providing to you, and how many stacks of a given buff you have (Yep buffs can stack!)
As you gain levels, you will be able to have skills that will increase the number of stacks a given buff can have. Each stack counts for 1% so, for example, a Mage can have their 'Electrified' skill stack 20 times the buff 'Power' for an additional 20% damage boost while that skill is active!
Since we have a good range on what types of skills can be added to the game, we will put a pause on the skills so that we can start pushing out more content.
The next thing down the pipe would be crafting! This will start out simple with cooking, fireplaces are the crafting station, and they are like everywhere so you will be able to cook some food out of the 20+ new food resources that you can gather.
This should allow you to make use of those items and gold you been hoarding!
Next week we will go over the full patch notes and what we were able to finalize for the update.
---
Discord: https://discord.gg/93RQdvz
Twitter: https://twitter.com/SuneXGames
Facebook: https://facebook.com/SuneXGames
Website: http://sunex-games.de/
Get Dungeons of Tal'Doria