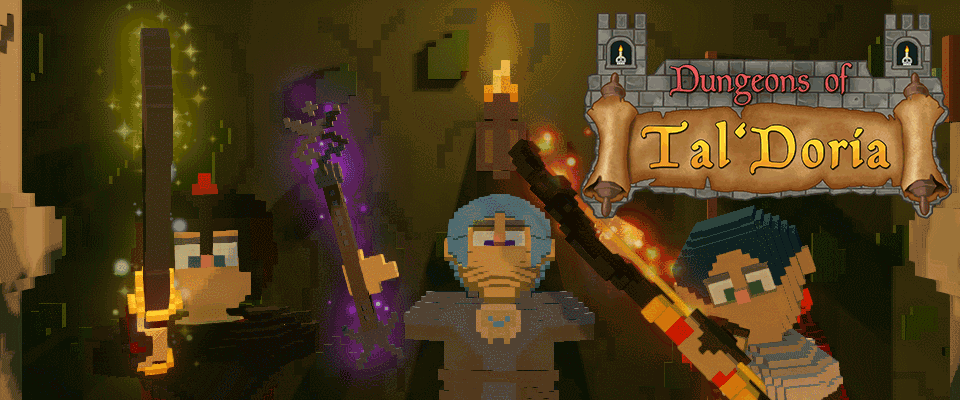 Dungeons of Tal'Doria
Version 1.0.1 - Skills and More (DDD #25)
---
Hey Tal'Dorians!
Skills have made it into the game and are ready for you to play with friends. The multiplayer side of skills was giving us some trouble, but with the help of some of our streamers we were able to get it polished for you, big thanks to:
Who all did a fantastic job streaming, anyone who is interested in what the new build looks like should check out their VODs and go give them a follow!
The main improvement in this build is an increase in the movement speed, you will be able to be faster with given gear, but we had a couple of suggestions saying it felt really slow, so we have increased it a bit, so please share with us how it feels in discord!
The other thing which you all have been waiting for is the skills! Each class currently have two skills which you get at level two and level four, these skills increase in power as you use them, hit V in-game to see the full details about the skill and track how they are leveling.
If you would like a preview of the skills, you can see them in our last news post here: Steam Announcement
And also a few improvements to the first biome made it into the build!
We are continuing to work on the skill system, which means more skills coming down the pipe for the classes soon, as well as class independent skills which you can learn that are not given by just leveling up. We will also be working on adding in skills for the enemies; the veterans with the skulls next to there name will be getting a secondary attack soon which will start to make them feel like true mini-bosses rather than just larger enemies.
Also we're working on some other cool stuff ... more information in our next DDD:
Here are the full patch notes for v1.0.1:
NEW
- Added 2 skills per class
- Added in-game option to change graphics settings
- Added option to toggle vsync
- Added an invite code system: You can invite people to your game via an invite code. You find the code while playing and if you press the 'Invite Code'-button when pressing ESC
- Added new tutorials for multiplayer and skills
- Added SuneX Games Logo on startup
- Added error sound when you cannot use something from your action bar
- Help buttons on specific interfaces are glowing now until you moved at least once over it

BUGFIX
- Fixed a bug, which prevented the last hit to grant you rewards for an enemy
- Fixed some sounds that were too loud
- Fixed a bug where clients cannot see the correct animation set on other knights with shields
- Fixed some scaling issues with parry/evade/block chances

BALANCING
- Slightly increased the overall movement & animation speed
- Increased all projectile speeds a bit
- Slightly reduced the chance of durability loss
- Improved AI of ranged NPCs
- Aggro check rate increased
- Doubled the tries to place rooms in dungeons
- Made earlier dungeons smaller

OTHER CHANGES
- Improved the visuals of the farmlands biome
- Added Q and E hotkeys to the last two slots in action bar (soon: You will be able to change all the hotkeys!)
- The crosshair is only shown when you have a class that needs to aim
- Improved camera behavior
---
Discord: https://discord.gg/93RQdvz
Twitter: https://twitter.com/SuneXGames
Facebook: https://facebook.com/SuneXGames
Website: http://sunex-games.de/
Get Dungeons of Tal'Doria