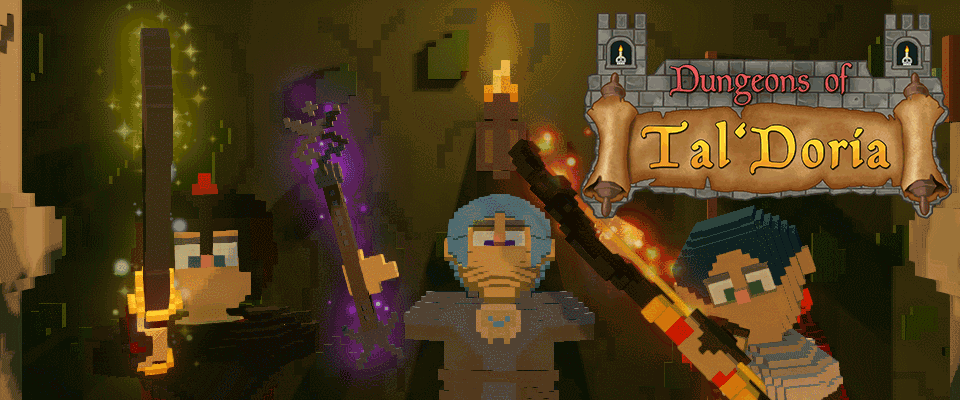 Dungeons of Tal'Doria
Biome Update Now With Teleporter (#29)
---
Hey Tal'Dorians!
The Update is finally ready to go out; we are just giving it over to a couple of streamers to playtest for us and then off it will go to the community! Want to know who will be going live with it and when? Head over to our Twitter or Discord Server where we will alert you when they are going live!
Our Point Of Interest (POI) system has received many new objects and locations for you to find in the biomes, we won't spoil the fun and name them here so you will have to go and check for yourself. We also reworked a couple of our biomes on the world generator side of things, giving you a more varied experience when it comes to the terrain.
A new Enemy has entered the ring! Slime creatures have invaded Tal'Doria, and you can find them throughout the different biomes, but watch out as these guys have the ability to squash you from above.
We have added new POIs you can discover while traveling through the biomes!
So we have a secret that many of you missed in the demo! We noticed that very few people were able to find them, but in the demo, we had Treasure Gnomes that you could find as an Easter Egg in the game. They will be making their official return in this update and will come in all shapes and sizes and as the name suggests if you can take them out (That is if you're able to catch them before they escape), then you will have a pile of treasure to keep.
Food isn't the only crafting that will be in the game, and while the professions for the other crafting jobs are not finished, we have been busy making recipes for weapons, armor, healing and mana potions, rings, and amulets. Currently, we have over 600 recipes, and that is just scratching the surface of our recipe todo list!
Inventory is a massive thing in ARPGs, and many of you have requested bigger backpacks to store all your items. With the new update, there will be two tailor masters traveling the world who would love to make that backpack bigger for you, all you need is to provide them with the material and some coin for their time to get extra slots added to your backpack.
With crafting tables being needed for many recipes, being able to get quickly to one of those tables without having to spend hours walking through past biomes was something we felt was essential to the player. This is where 'Portal Stones' come into play, you will find these stones in some of the biomes, and once you activate them once you can teleport between them. Teleporting cost a few gold coins and so far no one in Tal'Doria has learned the secret as to why maybe you will be able to find out?
---
Discord: https://discord.gg/93RQdvz
Twitter: https://twitter.com/SuneXGames
Facebook: https://facebook.com/SuneXGames
Website: http://sunex-games.de/
Get Dungeons of Tal'Doria