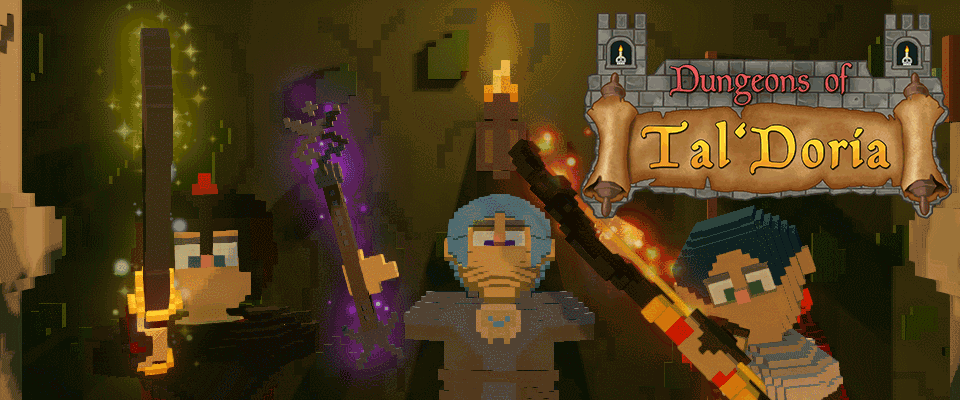 Dungeons of Tal'Doria
Talking NPCs and Food (DDD #27)
---
Hey Tal'Dorians!
We are really excited to be showing you some new content in relationship to our first crafting profession! On top of that, we also have some news about how our NPC's are coming along and what you can expect from them in the next update! Unfortunately it will still take some time.
There has been a lot of new resources added to the game in preparation for our chef profession, and what good is a chef without ingredients? So today we are going to show you some of the food you can find in the world and how it will work.

Harvestable Corn Plant (Farmlands)

Harvestable Pineapple Plant (Maya Jungle)
The NPCs are busy working on those crops for you to steal, crops will grow in random places but some biomes like the medieval plains will have an abundance of crops, like the cornfields, which as you would expect allows you to harvest corn from.
Trees and bushes will now be a source you can harvest from, but their resources will actually respawn, so once you gather all the apples, for example, you can come back later to harvest them again if you have found a good spot for harvesting.
There are many types of Food you can eat raw, but you will also be able to buy food from chef NPCs as well as cooking your own food with the chef profession. With the entry of food into the world, we will be making potions a bit rarer and hopefully be saved for emergencies. This means that you will want to start carrying around something you can eat in your backpack and find breaks between the fights to consume it as they will take longer to recover health as they have a heal over time effect.
Food is not only for healing ether, some food will give you attribute bonus' for a short time, so it will be helpful to find the right foods for the given task.
We will break down the ins and outs of the chef profession in the next DDD, but the basics are: the chef profession allows you to mix food items together to make dishes, the more tools, and experience you have as a chef will allow you to make exceedingly more complex dishes which will offer greater and greater boons.
Outside of these new resources we are working on improving the world to make it more lively, you have already seen some of the NPCs in the world but now they will have dialog and some will even give you hints to where to find treasure!
There is still a good deal more than we are working on but will leave you here till we have more to show, as always please stop by our discord and say hello!
---
Discord: https://discord.gg/93RQdvz
Twitter: https://twitter.com/SuneXGames
Facebook: https://facebook.com/SuneXGames
Website: http://sunex-games.de/
Get Dungeons of Tal'Doria