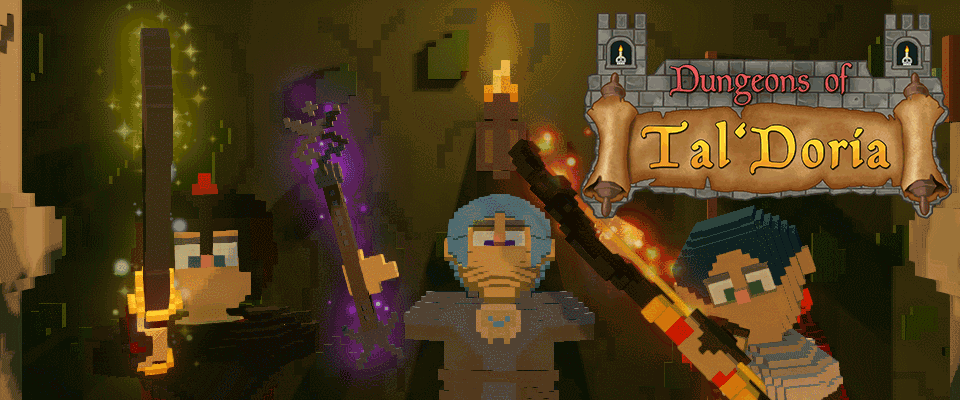 Dungeons of Tal'Doria
Streamer Program, New Dungeon, New Demo (DDD #19)
---
Hey Tal'Dorians!
In this DDD we will be looking forward to what we have in store for the new year to come, focusing on when are we going to be rolling out given features and details about our awaited newest demo.
We are now accepting applications for Streamers who want to become part of our streamer program (This will become an affiliate program down the road) to apply, click here. Read below to find out more about whom we are looking for and how we want to help Streamers.
Also, we wanted to start out by showing you some progress we made so here is an outline and quick look at our newest dungeon.
Content
Well Dungeon
New Demo
Streamer Program
Plan for 2018
In our Medieval farm like biome, you will have a chance of coming to some wells within the world; we have always loved fantasy games which give you the opportunity to go down into a well and explore caverns and wanted to include this as an element in our game. Here is a preview of the well and its layout:
PS: Some dropped items are missing their 3d model.
The well model is based on Twins submission, and we always love gaining inspiration from our community so please share with us when you have an idea. We have a channel over on our discord dedicated to player submissions. (We welcome ideas or models!)
Discord: https://discord.gg/93RQdvz
In 2017 the focus of our demo was to understand elements in the gameplay that needed improvement from a combat standpoint as well as to gauge the community's interest in the game.
Moreover, we are happy to say that it was a huge success, itch.io has been amazing in gathering support for our game, and because of that, we were able to get valuable feedback on what was expected both regarding what our next demo should contain and where we need to improve.
In February we will be releasing what could be considered a full demo, this will have:
Randomly generated biomes
All three classes (Knight, Archer, Mage)
Many different drops
Dungeons
And more
This is an excellent stage for Streamers and YouTubers to pick up and play for their communities, so we are looking for anyone who has an interest playing to sign up to our Streamer Program!
We are focused on helping you grow your communities and not on your current size, so we welcome large and small streamers alike to apply!
Here is what we are truly looking for in a Streamer:
Set schedule of streaming or streaming consistently every week with VODs to show recent activity.
Social media account; this can be anything from Twitter, Facebook, Reddit, Instagram, whatever you feel you are most active on and can be used as a way for us to engage you and your community.
Able to provide feedback on what you like and dislike about the game and suggestions on how to improve it.
2-8 friends that you play games with and would like to join you in Dungeons of Tal'Doria. (Must provide contact info for them so that they can be invited)
In addition, we will ask for numbers; this is more for us to measure what your needs are as a streamer and will not be used to disqualify you from being in the program so please be honest with us as our goal is to help you.
Here is what our goal is to help out streamers:
Build awareness of Streamers through our social media channels (through tweets, posts, website list, news) to help grow the streamers viewer base
Create content for Streamers to use (assets, giveaways, events, etc.) to help maintain their viewer base
Access to the developer team, for streams, feedback, and questions to keep the Streamer be informed and have exclusive content for their community
(future) To create a program were the Streamer will earn revenue for all the awesome stuff they do, including sales.
Again: To sign up click here!
Our roadmap for this year is to focus on getting our demo out and into the hands of our community for feedback and QA and then move towards Early Access for the full game.
The first major content release after the demo will be skills and abilities for the classes; this will finally add some customization to the characters and make even two of the same mages act differently between players.
Next will be a crafting system so that all the loot you find can be used to build bigger and better things, both regarding gear and touching on other elements of the game.
After that our focus will be to get the first version of the pet system underway. We are really looking forward to this milestone as we have many ideas on how to make this unique and special to Tal'Doria and will be looking towards the community to give us suggestions as well.
Between all of these major updates, we will be pushing smaller ones that will add new biomes, gear, dungeons, and enemies into the game to keep content fresh while the community waits for the larger updates.
---
Discord: https://discord.gg/93RQdvz
Twitter: https://twitter.com/SuneXGames
Facebook: https://facebook.com/SuneXGames
Website: http://sunex-games.de/
Get Dungeons of Tal'Doria