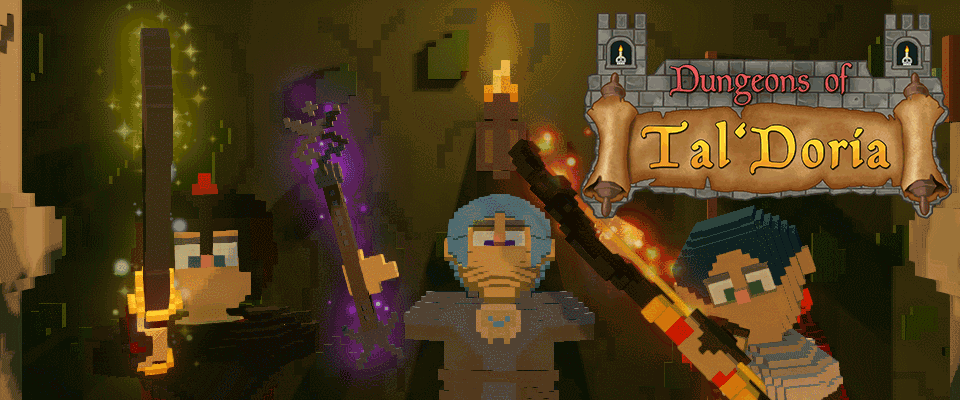 Dungeons of Tal'Doria
New Public Demo, Amazing Streamer (DDD #20)
---
Hey Tal'Dorians!
We are happy to say that our new demo is now out for everyone to try; this will give you a look at some new dungeons we have been working on, our equipment system, and level progression.
We are incredibly sorry for the delays our team was sick throughout this month, and it pushed the date back farther then we wanted.
The good news is this gave streamers some extra time with the builds to share with their communities making our community as a whole grow meaning more people to play with on launch so keep sharing with your friends and streamers!
Content
It seemed like the season for sickness, but we are finally able to get it out this week! In the demo, you will be able to explore part of the world of Tal'Doria and the dungeons contained within. Each seed will be 3x3 biomes with two different types randomized (Jungle and Medieval).
All the streamers enjoyed the day/night cycle that we were able to sneak into the build, the nighttime makes the jungle extra eerie. We are looking forward to hearing everyone's thoughts on this as well.
Along with the two biomes that you will be exploring, there are three dungeons for you to dive into. The Well Dungeon will have you fight your way through the old cobblestone mazes that lay beneath the Medieval Plains, The Root Dungeon will have you searching through the massive trunks below the jungle, and the Maya Temple Dungeon will have you going through the ruins of an ancient temple.
The Dungeons aren't the only thing to find in the demo, and there are many new things to see and interact with!

Traveling merchant waiting for customers
While you are playing, don't forget to jump into our discord here: https://discord.gg/93RQdvz and share your thoughts and feedback on the demo. We want to hear from you as we couldn't have got to this point without all the insight you gave us during our first preview.

We want to thank the marvelous streamers who shared the game with their communities. Its been great to come hang out with all your viewers and get a feel for how you interact with those who watch. We want to give a special shoutout to those who streamed the game during the streamer only weeks and have a link to all there VODs below, be sure to check them out and drop into one of their streams to thank them.
It's still not too late to signup to be apart of what we are doing, if you a video creator or streamer, please join us on this adventure here: click here and if you want to know more about what our goals are to help streamers you can check out our last blog here: DDD #19 - Streamer Program, New Dungeon, New Demo
---
Discord: https://discord.gg/93RQdvz
Twitter: https://twitter.com/SuneXGames
Facebook: https://facebook.com/SuneXGames
Website: http://sunex-games.de/
Files
[2018] Open World Demo (64-bit) [RAR-Archive]
107 MB
Mar 23, 2018
[2018] Open World Demo (32-bit) [RAR-Archive]
105 MB
Mar 23, 2018
Get Dungeons of Tal'Doria